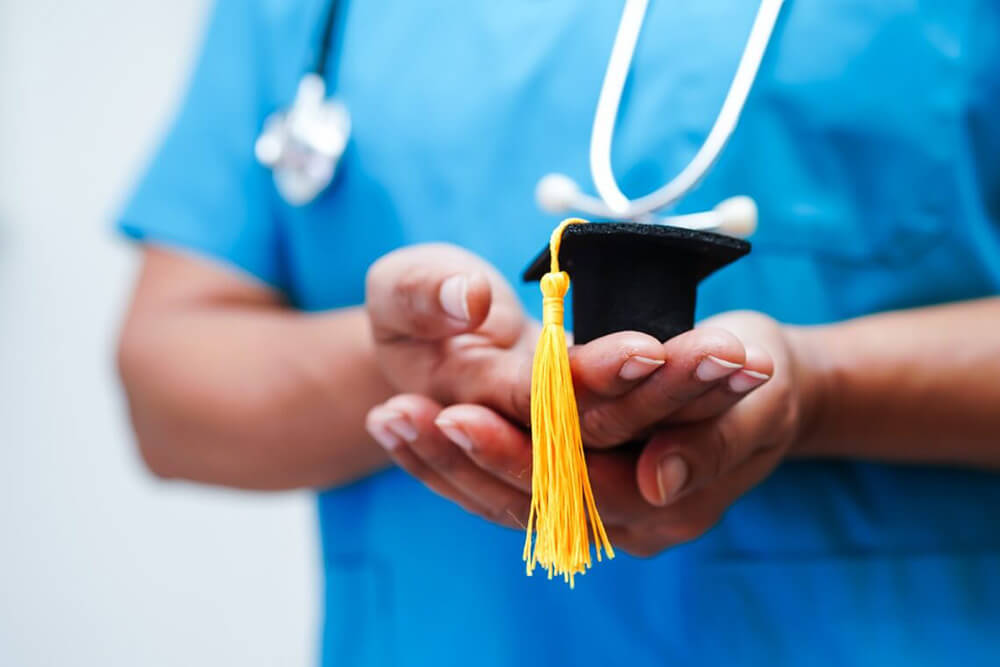 Like many aspiring registered nurses (RNs), you probably want to get licensed and start working as quickly as possible. Fortunately, you can hit the ground running in your career by completing a diploma or associate degree program. But don't stop there. Ambitious RNs can go on to earn master's degrees, and some even pursue doctorates.
You don't necessarily need to decide right now how far you want to go with your nursing education. However, by learning about the most advanced degrees RNs can earn, you can map out your career path for a smoother journey.
Types of Nursing Degrees
Before diving into the most advanced degrees an RN can earn, it's helpful to have a grasp of all the available options. Here's a quick overview:
Diploma program: By completing a two- to three-year diploma program, you can qualify for many entry-level RN positions. These programs are typically offered by community colleges and hospitals.
Associate degree in nursing (ADN): The typical ADN program takes two years to complete, and it prepares you to take and pass the NCLEX-RN exam.
Bachelor of science in nursing (BSN): Earning your BSN takes four years, but you may be able to finish in as little as one to two years if you have your ADN.
Master of science in nursing (MSN): With your ADN or BSN, you can go on to earn your MSN in 1.5 to two years.
Doctor of nursing (DNP): A DNP is the highest degree an RN can earn. You'll need an additional three to six years to complete the program.
Benefits of Earning a Master's or Doctorate Degree in Nursing
If you want to advance your career as an RN and become an advanced practice nurse (APN), you'll need to earn at least your master of science in nursing (MSN). In fact, 94% of nurse practitioners have their MSNs. Many master's programs also offer specialty tracks, allowing you to specialize in pediatrics, geriatrics, oncology, and other areas.
You need a BSN to be admitted to an MSN program. But while you're at it, consider earning your Doctor of Nursing (DNP) degree as well. Many RNs earn both simultaneously. There are a few options for earning a doctorate in nursing. You can become a Doctor of Nursing (ND), a Doctor of Nursing Practice (DNP), a Doctor of Nursing Science (DNSc), or a Doctor of Nursing Philosophy (DNP). The specific program you choose will depend on your long-term career goals. For example, if you're primarily interested in teaching at a university or conducting intensive research, earning your PhD in Nursing is probably the best way to go.
Working While Earning Your Doctor of Nursing Degree
The fact that it takes three to six additional years to complete a DNP program can be daunting, of course. But many RNs work toward this advanced degree while holding down full-time nursing jobs. This is often possible through a combination of in-person and online classes.
Finally, even if you're not sure if you'll eventually earn a master's or doctorate degree, it's still worth getting your BSN. Doing so keeps your options open and qualifies you for more lucrative positions. If you decide to further your education down the road, you'll already have one hurdle out of the way.